James De Mesmaeker, aka "Mes"
"In true TOH fashion, I shall give my OC trauma"
---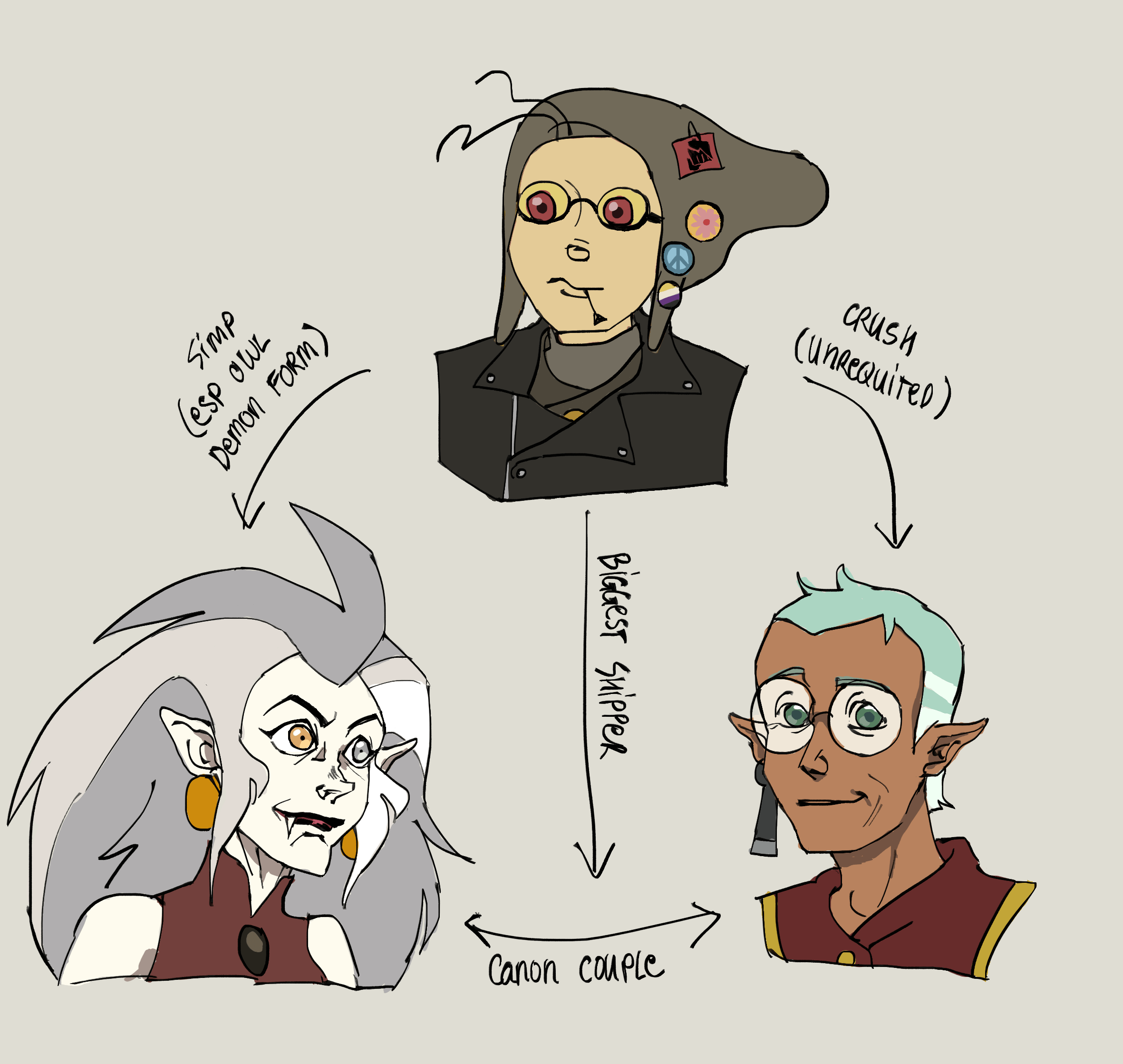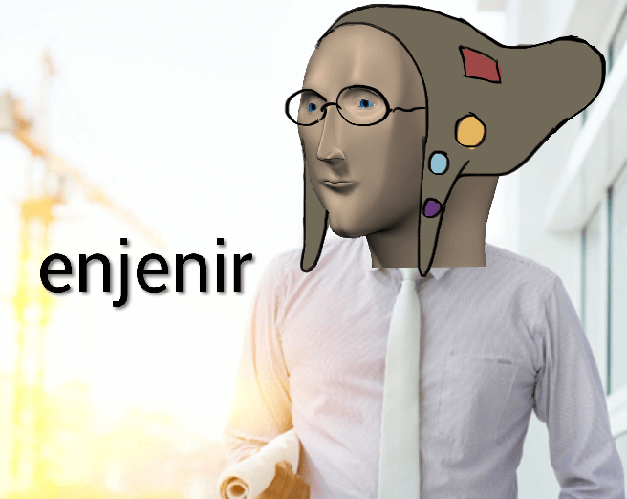 they / them nb
age: probably not legal
species: ???
studying: Construction at

Why Hexside?

Because it's the most tolerating place to strangers (read: because we have principle Bump). St. Epiderm is too damn expensive + cares about their image more than the students, and Glandus High is wayyy too competitive + full of assholes. Hexside has a tradition of accepting runaways (looking @ Luz and Hunter rn) so I think realistically this is the only place Mes could be in.
(enjenir)
mf (stands for monster fucker)
In a conversation with Owl Demon!Eda, Mes revealed that they were raised by Titans and are non-native to the Boiling Isles. This very much implies that they originated from the Titan Trappers Island. Mes' appearance is similar to that of a witch, and their eyes resemble the eyes of Titan Trappers, though, we still don't know if this is their "true" form or a camouflage.
One thing for sure is that Mes is not a Titan (Titans cannot use illusionist magic, or witches magic at all afaik), they could be:
a Titan Trapper witch

they look like one! they even have that Collector worshipping symbol on their forehead... or do they? this is the most possible scenario, however Mes is an orphan so we don't know for sure, their origin is still sussy af

a biped demon (species close to Kikimora / Osran)
a basilisk, like Vee

I was in favor of this theory, bc basilisks are extinct and the basilisks that are still alive were lab-raised by Belos, which might explain why Mes doesn't have parents. Out of the 5 basilisks raised by Belos, 3 escaped, one of them is Vee and we don't know abt others.
The only issue here is that basilisks are native to the Boiling Isles, and Mes is not. There was no record of basilisks on the Titan Trapper Island.

any other species, but with a Concealment Stone.

highly unlikely, since Mes appears to look like a witch ever since they were young, and to keep up appearance they'd have to carry the stone all the time which is kind of impossible.

a hybrid

now THIS is a theory I'd love to play with. As seen in the show, "half-a-witch" is flung around as some sort of insult, so life must've been fun for a kid who's literally half-witch and half-demon. Can you imagine the stigma.
I think this is how it went: father was a Trapper witch and mother was a biped demon, they were ostracized by society then killed, and what was left of them is a single mention in the history book of Titan Trappers' "glorious victories". Their child, Mes, luckily rescued by a tribe of Titans, was too young to rmb anything about their birth parents. Mes was brought up just like a Titan, until... genocide happens :D The Trappers came and killed off all Titans in the tribe, but mercied Mes because the kid apparently looked like a witch. This is the part where Mes had to come to term with the fact that they're not only a witch, but also one that's vaguely-discriminated-by-witches-for-whatever-reason. Mes was "adopted" by the Trappers tribe, but not so long after that they fled to the Boiling Isles yes I am shamelessly plugging my OC into the main storyline. Can you blame me tho? Luz is such a clumsy protagonist that every time she uses a portal there's a shit tons of things leaking between worlds and as a result Vee escaped to the Human Realm, Philips was led to the Collector and Belos parasited Hunter. Do I need to list out all of her portal-handling mistakes? I think letting Mes sneak into Boiling Isles is nothing but on brand for Luz.

/j, ik it's not her fault and portals are leaky by nature.
Detachment: All in all, Mes has multiple disjointed backgrounds and as a result of moving a lot, they don't grow attach to people or places.
Identity crisis: As bad as it sounds. Studying at Hexside would be a chance for them to reconcile with their witch identity, i.e by adopting a witch identity that isn't as cult-like and blood-thirsty as the Trapper one. But also, their cultural upbringing was Titan which is why they're kind of feral (lol) and are attracted to monsters.
Palisman: Mes' palisman is an Army Ant (worker). I really like the idea of palismen being "service animals" (i.e for people with disabilities or mental illness), Flapjack handle Hunter's entire mental health. Lilith's palisman resemble the chaotic vibe of Eda and Eda's palisman resemble the calm vibe of Lilith, I think this is because they were best friends in their childhood and then grew apart, but parts of them still need each other, etc... But also that Lilith & Eda are like 2 sides of the same coin and... ah shit this is getting long I'm putting this in a notation Ants are very small and social creatures and a symbol of collaborative effort, Mes is small and socially disable so I think an ant could be a great helper. Plus ants are like, nature's architects and they can lift 100x their body weight, which is also a match with Mes being in the Construction Coven and using the Power Glyph, a magic glyph exclusive to the Coven that can magnify their strength.
Some more reason to choose ants: they're very small, which is a hint to Mes' attention to small details over large constructions. If anything, Mes is good at dismantling large things by, let's say, removing small essential elements. It's similar to the way that ants attack their large enemies.
Army Ants species tend to move their colony instead of staying in one place, they're nomads and scavengers, and they're always at war just like the kid.
Cobblercore: SO ANW, Mes' design was inspired by (if not completely ripped off from) the Cobbler from Thief & Cobbler, an animated movie conceived in the 1960s. I'd say Mes is a word that I just made up in a lot of ways:
my headcanon is that Mes was from a tribe of blacksmith & leathersmith Titans, a job which they somewhat inherited (and then improved using Construction magic). They will be

Note that again, I used "construction" in a very loose sense that doesn't necessarily means building houses but can also means constructing garments, gadgets, Turing machines or anything constructible.

garments and small gadgets as a mean to survive / pay tuition fees in the Boiling Isles. As a matter of fact, their clothes is mostly DIY, just like the Cobbler's clothes.
the Cobbler in the film practices a menial job and was looked down on for the most part, just like a worker ant, but for some weird reasons he ended up dismantling a whole army of magical fiends just by ruining one element and then let the domino effect takes its course. The Cobbler was true to himself, he was fine with being a pawn on the chessboard, but he was an extraordinary pawn regardless. And so was Mes.
Ideology: They're progressive compared to most Trappers and are skeptical to religions or similar cult-like associations. They occasionally make fun of worshipped idols (The Collector & Belos) both in Titan Trappers Island and the Boiling Isles. Religions as known by them is only comodifying and unforgiving. This will also leads to them wanting to join Raine's rebellion in the future.
Mes falls under the radar for the most part (which works in their favor), but they are a brilliant student to-be.